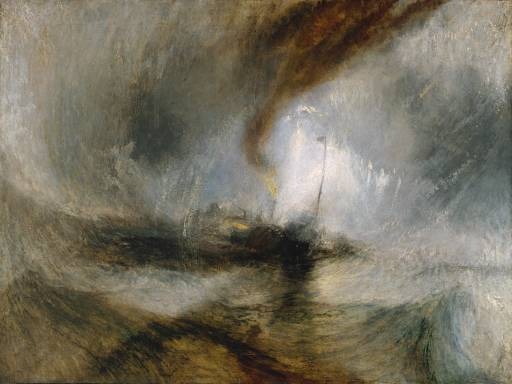 (Drivebycuriosity) - The British painter J.M.W. Turner is considered one of the greatest l9th-century British artists. The movie "Mr. Turner", directed by
Mike Leigh
, condensed the last quarter century of Turner`s life into 150 cinema minutes (
imdb
).
Despite the length, not much happened. Turner, who had described himself as a gargoyle, was totally immersed into the visual worlds and transformed his visions onto canvas. He didn´t care much about speaking. Usually he restrained his communication to economical dispensed growls and buzzig.
Timothy Spall
, who won as "Turner" the award for Best Actor at the 2014 Cannes Film Festival, appeared to me as a kind of bear whom a friendly fairy had lend the gift of painting. Cinematographer
Dick Pope
(special jury prize in Cannes) recreated Turner´s epoch on the screen, introduced the audience into London`s 19th century society life and generated Turner-like pictures on the screen.
For illustration I used Turner`s "Snow Storm-Steam Boat off a Harbour's Mouth" which the master had donated to the British Nation and belongs now to Tate London. The paintings shows a steamboat just off a harbor mouth in shallow water had been battered by a snowstorm. To create this, the 64-year-old Turner had had himself lashed to the ship's mast for four hours in the midst of the storm (
artnews
).
Mr. Turner is a cinematic speciality which might please Turner fans and connoisseurs of almost authentic 19th century art movies.