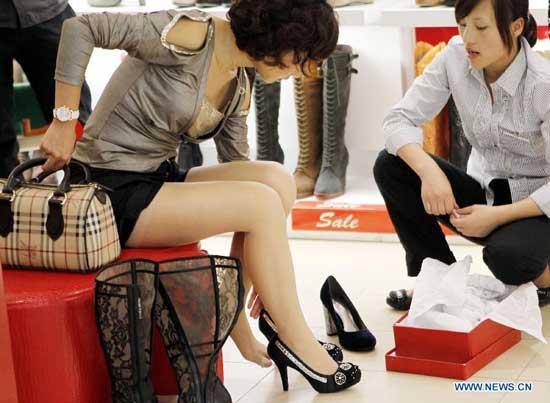 (Drivebycuriosity) - If be believe the media then China is about to crash. But the facts show that the country is managing the intended soft landing. Yesterday we learned that the Chinese retail sales grew 11.0 % in October after 10.9% in August (
ibtimes
). This is the third acceleration back-to-back and the best retail number for this year. Since April the retail sales have been trending stronger (screenshot below
tradingeconomics
)
Yesterday Alibaba, the largest Chinese e-commerce company, reported record sales for November 11, the singles day, a sales promotion similar to the American Black Friday: Sales surged 60% to $14.3 billion (
reuters
). Last week we also get news that China`s service sector grew faster in October, another sign that the domestic economy is getting stronger (
marketwatch
).
China´s consumers are benefitting from swiftly climbing wages (
tradingeconomics
). They also are profiting from the recent stimulus measures (reduced interest rates, stock purchases with government money, more infrastructure investments and more). China´s consumers get a lot support from cheaper oil and other commodities which leaves them more money to spend for other goods (like electronics).
The pick-up in consumption shows that China´s economy is right on track. The country is transforming from an industrial & export-focused economy to a modern system like the US, where most of the GNP is fueled by consumer spending. In the US consumer spending is the engine of the economy. China, which still depends too much on exports & industrial production is on the way to became a modern economy. The Chinese consumption accounted for 60 percent of the country's gross domestic product in the first half of 2015 -- up 5.7 percent points from the first six months of 2014 (
ibtimes
). I believe that the recovering retails sales will stabilize China´s transforming economy and will foster economic growth.