(Drivebycuriosity) - Today is "Black Friday", the inofficial start of the Christmas shopping season in the US (holiday business). Fortunately gasoline prices are falling - thanks to the global oil flood. Today gas at the pump (national average price) costs $2.05, about 6% less than one month ago ($2,20) and around 30% less than a year ago ($ 2.80) (
fuelgaugereport
). It seems that gas prices are coming back to the level they had before the year 2003 (chart below).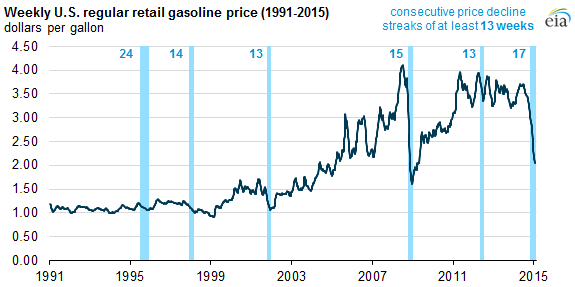 I think that the gas price drop comes right in time for the holiday season. Falling gas prices work like a tax cut. Consumers have more money to spend for other goods and services than last year. Especially commuters who have a monthly gas bill of $100 and more are benefitting from the 30% price reduction. Cheaper gasoline - in combination with a stronger job market - weekly jobless claims on 40-years-low and U.S. paychecks were 4.9 percent higher in October than they were a year earlier (
crainsdetroit
) - should fuel the consumer spending in the coming days.
The chart below this paragraph - which shows the yearly growth rates of the US retail sales (ex-gasoline) - can partly be explained with the influence of the gas prices. Before the year 2000 gas prices hovered below $2. Cheap gas stimulated the retail sales which`s growth rate fluctuated between 4% and 8%. After the recession 2001/02 and the 9/11 incident retail sales recovered temporarely to a growth rate of around 8%. The sharp rise of the gas prices - beginning in 2003 - slowed retail sales markedly. Therefore the growth of the retail sales decelerated sharply even before the recession of 2008! After 2010 the return of gas prices above $3 slowed retail sales again.
It is highly likely that the national average gas price will drop below $2 in December and will stay there for years to come because the oil flood will continue and will curb the price of crude oil (
driveby
). Gas prices around or below $2 for years should stimulate economic growth and bring back retail sale growth rates of 6% and more.