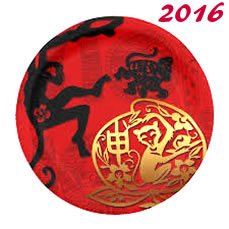 (Drivebycuriosity) - In some hours the Chinese will celebrate their lunar New Year and the start of the "Year of the Monkey". The "year of the goat", which ends today, brought a lot of stress for the financial markets in China & the rest of the world. China`s economic growth slowed down to 6-7%, but the country avoided again the hard landing many are predicting for years (
china
). Western media, banks, hedge funds and many pundits are drawing a gloomy picture of the "people`s republic". "Hysteria over China has reached the point of collective madness", comments the British paper Telegraph (
telegraph
). As a result China`s stock market, the Shanghai Composite Index, plunged almost 50% from it´s peak last June (5,178 points) and lost 10% over the whole "year of the goat".
I think that the gloomy China sentiment and the Chinese stock market crash are both ill founded.
I believe in China because the country is still in the begin of a secular catching-up process which is fueled by extreme income & wealth differences to the US and other Western nation values. Today China has about $7,500 income per capita, the US number is $54,600 (
worldbank
). China doesn`t have much commodities but there is a huge amount of human capital: 1.3 billion people who are intelligent, the Chinese work hard and save money to achieve a better life. Wikipedia counted in 2014 already "2,236 colleges and universities, with over 20 million students enrolled in mainland China" (
wikipedia
). This fast growing knowledge is driving science & innovations.
The country is transforming from an industrial & export-focused economy into a modern system like the US, where most of the GNP is fueled by consumer spending. In the US consumer spending is the engine of the economy. China, which still depends too much on exports & industrial production, is on the way to became a modern economy. Many peasants are moving to the huge metropolitan centers which are spread all over the huge country to lift their standard of living. This creates a fast rising affluent middle class, giving consumer spending a boost as the strong retail sales demonstrate (growth rates about 11%
tradingeconomics
).
And Beijing is continuing reforms which the government had started in 2013, including a liberation of stock trading between Hong Kong and mainland China, and announced more investments into airports, railways and other infrastructure.
China´s growth should be supported by the technological progress and advances of Internet, automatization of industrial production and 3D-printing. These developments raise efficiency and productivity of China´s economy. I think that the many official stimulating programs (lower interest rates, billions into infrastructure and more) and cheap oil & other commodities will generate enough tailwinds to stabilize the Chinese economic growth rates in the course of the year.
During the year of monkey China`s economy should manage the soft landing and could grow between 6 and 7%. Signs of stabilizing (retail sales, industrial production and more) could refuse the gloomy sentiment and disprove the "China-is-crashing" call and might rekindle Shanghai`s ailing stock market.
Happy Year of the Monkey!